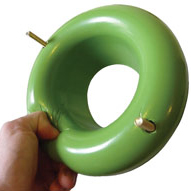 Sani Seal Partnership
Crossroads Industrial Services in Indianapolis provides Product Assembly, Product Packaging and Repackaging, Product Testing for ETL Standards, Order Fulfillment Solution services and Document Scanning & Digitization services for Sani Seal.
Sani Seal Gasket, LLC, was formed in 2009 by friends, Bob Grimmett and Joe Miller. Working out of their garage, the two entrepreneurs set out to find an answer to the problem of water damage caused by leaky wax toilet rings. Today, their product, which is manufactured in America, is sold nationwide in Home Depot and in local hardware stores, such as Ace Hardware, Do It Best, True Value and more. Hardware stores in Canada and other countries also carry the Sani Seal!
Sani Seal provides innovation in toilet sealing by making no mess, flexible, new wax-free Sani Seal toilet and urinal gaskets. Their slogan is "No Mess, No Hassle, Just a Perfect Fit, Every Time!" Bob Grimmett said, "We are pleased to consolidate our operations with Crossroads Industrial Services, as this is a perfect fit for our company."
Crossroads Industrial Services has been successfully providing Packaging and Order Fulfillment Solution Services to Sani Seal for the past 2-3 years. As a result, Sani Seal has ANNOUNCED that they are moving all of their product lines into our Crossroads Industrial Services Indianapolis facility, where we will employ 4-5 full-time persons to solely package and oversee the successful Order Fulfillment Solutions to numerous big box stores, such as Home Depot, Do it Best, Ace Hardware, True Value Stores, etc
Contact us to see how Crossroads Industrial Services can provide high quality solutions for your organization.