Supply Chain Services Continuum: The Crossroads Advantage
WE ARE YOUR VIRTUAL FACTORY.
Throughout the production life cycle, Crossroads Industrial Services provides the highest quality solutions that serve as a scalable extension of its customers' businesses. From contract manufacturing, assembly and other supply chain management services to just-in-time fulfillment and product packaging, Crossroads uniquely serves as a virtual factory so our customers can focus on their core competencies. Please contact us to discuss your contract manufacturing needs.
Production Life Cycle
Select a step on the chart to learn more.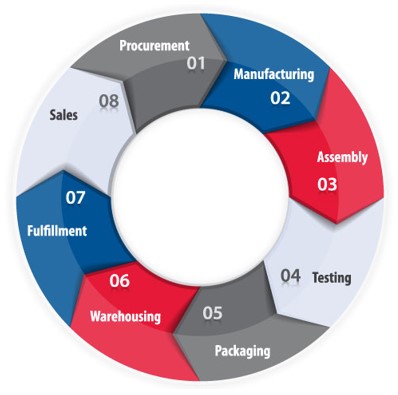 1. Procurement
Need assistance locating the right materials for your project or even the right partners to help you get it to market? Crossroads often assists in procuring raw materials, components and parts.
2. Manufacturing
Complete custom and automated contract manufacturing services are available for clients in major industry sectors, including government and military, medical device, electronic, aerospace, industrial and automotive.
3. Assembly
Crossroads specializes in semi-automated, custom assembly of low- to mid-volume and short-run orders; rush orders can also often be accommodated.
4. Testing
Our trained production team members monitor the integrity of your assets to detect defects and irregularities before they result in damage, non-compliance or quality issues.
5. Packaging
From bagging to shrink wrapping, custom and just-in-time contract packaging services are available to meet a full array of packaging, repackaging and shipping needs. This includes bar coding, blister packing, 3-D labels, RFID tags, private labeling, kitting, military packaging and more.
6. Warehousing
Stored goods can include any raw materials, packing materials, spare parts, components or finished goods. Crossroads has a 68,000-square-foot facility, 20-foot ceilings and six loading docks.
7. Fulfillment
We offer logistical support for fulfillment and distribution of literature and products, including the process of order taking, picking, packing and shipping.
8. Sales
We work with our customers to ensure they're successful — as their success facilitates our ability to help more people in our area. When appropriate, we even assist in the sales process by promoting finished products through our many networks
Customer Testimonials and Case Studies
At Crossroads Industrial Services, we provide customized manufacturing, assembly and supply chain support as well as document scanning for companies of all sizes within a wide range of industries, including military, medical, transportation, pharmaceutical, consumer goods and industrial.
Crossroads is completely trustworthy. They're dependable, and we get good service consistently. They've been a great long-term resource and are very supportive of our needs. It would be much more difficult to meet our customers' needs if we didn't have Crossroads as a partner. Any company that does manufacturing and fulfillment can use their services.
Unless you're a very large company or you have a predictable order flow, it can be difficult to manage production yourself and keep up with evolving markets. Crossroads' flex staff is highly specialized along all phases of the manufacturing process, which not only ensures quality, but also makes production efficient and cost-effective.
I can rest easy knowing Crossroads has our projects under control. Our product demand has definite peaks and valleys. If we ever need a rush on something, they get right to it and make it happen. I will continue to recommend Crossroads.
Our experience with Crossroads Document Scanning has been outstanding. They are professional, reliable, timely and accurate. We have seen a significant increase in efficiency since we started utilizing them to scan documents for our accounting practice. Researching old records no longer requires pulling boxes from storage and digging through thousands of sheets of paper in search of that one missing document. Additionally, we have freed up office space by eliminating file cabinets. We highly recommend them to anyone looking to get out from under the paper crush and make their business more efficient.
For over 80 years, Crossroads has provided flexible, customized support and production advantages for companies of all sizes within a wide range of industries across the country. As an ISO 9001:2015 manufacturing partner, we consistently uphold strict standards through our established process controls and quality systems. Our certifications and qualified staff enable us to provide the highest quality services, no matter the project or industry.
ISO 9001:2015 Registered

ETL (UL) Approved for Electronic and Mechanical Product Assembly

ARP (Alternative Release Program) approved and authorized to bypass incoming inspection by the U.S. Military

OMB Circular A-133 Compliant (Sarbanes Oxley Equivalent)

Compliant with Military manufacturing and packaging specifications (Mil Spec)

A Lean Manufacturer with 5S Continuous Improvement Philosophy

HIPAA Compliant

AbilityOne Program Compliant