Manufacturing Professionals Provide Quality Service
For over 85 years, Crossroads Industrial Services has provided outsourced manufacturing and assembly services for companies across the country of all sizes within a wide range of industries. Crossroads is led by experienced business and manufacturing professionals dedicated to providing the highest quality services.
Jeff Gore
General Manager – Administration
Greg Roberts
General Manager – Operations
Employees Focus on Quality
As a well-established company with a long history of providing customized solutions all along the manufacturing continuum, Crossroads Industrial Services remains committed to employing people with disabilities and generating income to support rehabilitation services for children and adults through Easterseals Crossroads.
At Crossroads, our focus is on ability. We take pride not only in our training programs but also in matching each employee's abilities with projects that will bring out his or her strengths in order to consistently exceed customer expectations. Every member of our Crossroads family has a unique story to tell, and when you partner with us, you become a part of that story.
AbilityOne
Crossroads Industrial Services is a proud part of AbilityOne, a Federal program that creates employment opportunities for people with disabilities at nonprofit agencies that manufacture and sell products and services for the federal government. The goals of the AbilityOne program align with the Crossroads vision to promote honest and transparent business processes while remaining committed to providing superior products and service quality. Our qualifications and proven processes make Crossroads perfectly positioned to be exactly what you need in an outsourced manufacturing partner, with the added benefit of helping us give back to the community.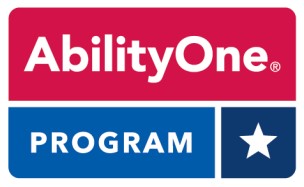 Supported by the National Institute for the Severely Handicapped (NISH), AbilityOne is the largest employer of people with disabilities, with more than 47,000 people employed nationally in 2012. In order to be designated as an AbilityOne provider, 75% of the direct labor of an organization's work force must be performed by employees who have some form of a disability, including our wounded warriors. Crossroads takes pride in matching a person's ability to meet customer opportunities.
Making a Difference
Trusting your business to Crossroads Industrial Services makes a difference in people's lives.
Meet Evelyn: Evelyn is a multi-skilled worker at Crossroads Industrial Services. She takes great pride in doing her job well and contributing her skills where they are needed, which makes her a very versatile employee.