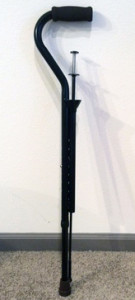 Medical Equipment Company Partnership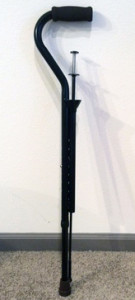 When it was time for local entrepreneur Barbara Wood to select a distribution supplier for her business, she chose Crossroads Industrial Services. Barbara is the inventor of Helping Hand Cane. The cane is a unique, patented (DME) solution needed for people with mobility and bending disabilities. It gives cane users their independence and most important – their safety – due to the integration of two key functions; walking support and the ability to pick up dropped articles. Crossroads will be accelerating the growth of Helping Hand Cane by providing warehousing, packaging, order fulfillment and customer interface.
"Our relationship with Crossroads has been very beneficial. We know Crossroads will provide excellent nation-wide distribution while employing talented people with disabilities to give us the scale we need to fulfill increased product demand," said Barbara.

"We are pleased to be awarded this business and an opportunity to work with Helping Hand Cane as a trusted partner. Their product fits well with our mission and will have a significant impact for people with mobility issues. Crossroads will provide a flexible solution with our scalable manufacturing and distribution operations," said Curtiss Quirin, COO of Crossroads Industrial Services.
Cane users everywhere will gain confidence, safety and independence with the Helping Hand Cane. Crossroads Industrial Services can meet your company's needs, too; contact us for more information.