Document Scanning: Do-It-Yourself vs. Outsourcing
Today's post was written by Mary Jo Gremling, Manager of Crossroads Document Services.
Are you weighing the pros and cons of tackling that document scanning project in-house? It can certainly be done, but such a venture requires a lot of thought, planning, and consideration to assure success without disrupting your entire office environment in the process.
Document scanning, while not "rocket science," does require proper training and quality control to produce suitable electronic images. Remember, there is no room for mistakes—an error rate of even 0.1% means that one page in every 1,000 could be missing or unreadable, and that is totally unacceptable. Likewise, data entry must be accurate to ensure the record can be located and accessed after it has been scanned.
The Challenge of Do-It-Yourself Document Scanning
Using in-house staff to prepare and scan paper documents is one option to consider. This can be successfully performed with the understanding that the project will require at least two full-time employees (one to prepare the files and one to scan) as well as a workspace large enough to allow an efficient assembly-line process.
It is very important to carefully choose personnel for this project. Not everyone is detail-oriented enough to perform the repetitive, tedious task of removing staples and organizing pages. Nor does everyone recognize the importance of consistently capturing every piece of information in the file. Every scanned image should be viewed, checked against the original, and approved.
Your project will also require the use of a scanner fast enough to handle several thousand pages per day. While office scanners rated at 20-30 images per minute may work well on a go-forward basis, they are not robust enough to efficiently handle the initial work of scanning a large volume of documents. Whatever savings there may be in purchasing an inadequate scanner will be lost in the hours it will take to complete the project.
The scanner should have built-in fail-safe features to guard against more than one page feeding through at a time, resulting in lost information. Scanning software must allow images to be scanned into multiple-page PDF or TIFF files that can be named in an organized, logical structure.
Be aware that all imaging software does not produce the same results. Some have more file compression capabilities than others. Electronic file size can be an issue whether a business stores data internally on a server or uses a web-hosted system. Web-hosted services usually charge for data storage based on the total number of gigabytes used. The software provided with a multi-function machine (copier/scanner/fax) is not usually designed with this in mind.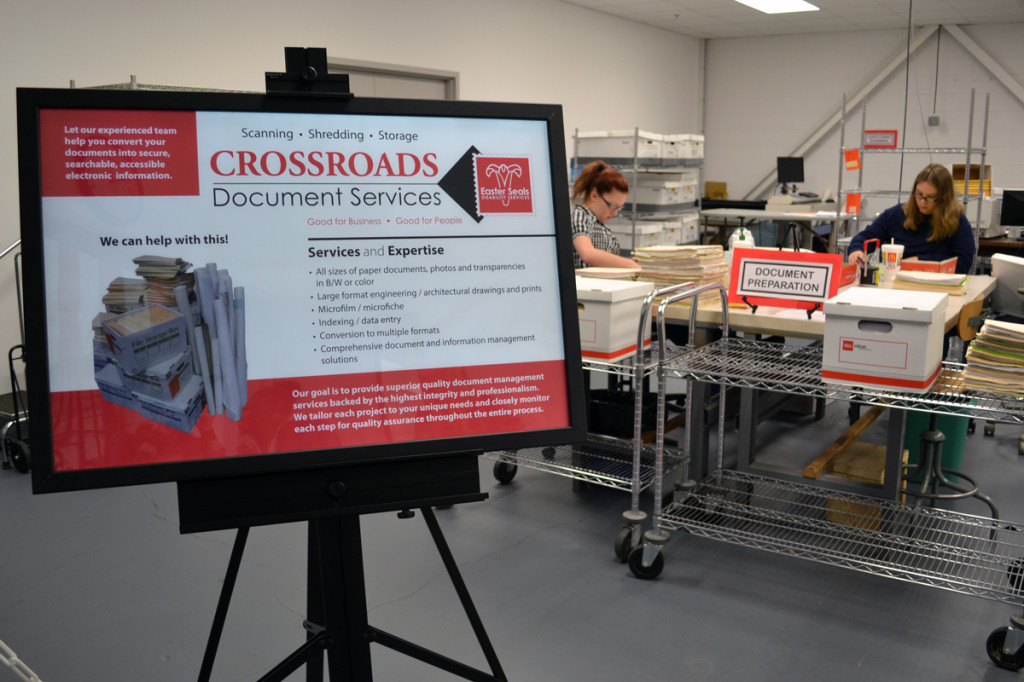 Outsourcing: A Viable Alternative
While the do-it-yourself option may sound a bit overwhelming, there are more efficient ways to convert documents from paper to digital, decreasing the overall time required to complete the project and greatly reducing the stress on your office staff. One such option is outsourcing the scanning of paper records to an imaging service bureau.
An imaging service operates under a confidentiality agreement with each of its clients. All personnel who handle customer documents sign confidentiality agreements, and privacy requirements are strictly enforced. Records are usually transported to the service provider's facility for processing.
At Crossroads Document Services, we have a fleet of vehicles for picking up any size shipment, from just a few boxes to many pallets of boxed or crated documents. We can also send our personnel to pack your files. We can even provide boxes! 
In a production scanning environment, a dedicated team efficiently removes all staples and paper clips, positions sticky notes, unfolds, smoothes and aligns all pages. Trained scanner operators using high-speed equipment evaluate every image on the computer screen as each page is scanned. Quality control steps are built into each process to ensure all images are legibly captured and correctly labeled.
Outsourcing the scanning of business records to a competent imaging service should be seriously considered when weighing the transition from paper files to digital. The actual cost of outsourced scanning is often significantly less than the expenditure of purchasing adequate equipment and utilizing staff to perform the work in house.
An imaging service specializes in performing the "grunt work" associated with scanning and can have all records prepared, scanned, indexed, and uploaded in a fraction of the time it takes for persons with little or no experience in scanning large volumes of documents.
Having all records digitized at one time can streamline the implementation of electronic records management, allowing your organization to make the transition without the confusion created by having some files in paper and others electronic for an extended period of time.
Conclusion
While the transition to electronic records is a major paradigm shift requiring buy-in from your entire staff, it can be accomplished far more easily if day-to-day operations are allowed to proceed as usual, with as little disruption as possible. Outsourcing document preparation, scanning, and indexing to a service that specializes in these tasks eliminates the need to distract staff from their usual responsibilities. The end result is a smoother, less stressful transition and quicker implementation, at a price that is often less than the cost of using your own employees to perform the project.
Call Crossroads Document Services at 317-897-7320, ext. 4230 to discuss your imaging project. We take the pain out of going paperless!
Mary Jo owned and operated eLucida Imaging from 2003 to 2013, when her Indianapolis-based company was purchased by Crossroads Industrial Services. She now manages Crossroads Document Services, located at 8302 E. 33rd Street, Indianapolis, IN 46226.