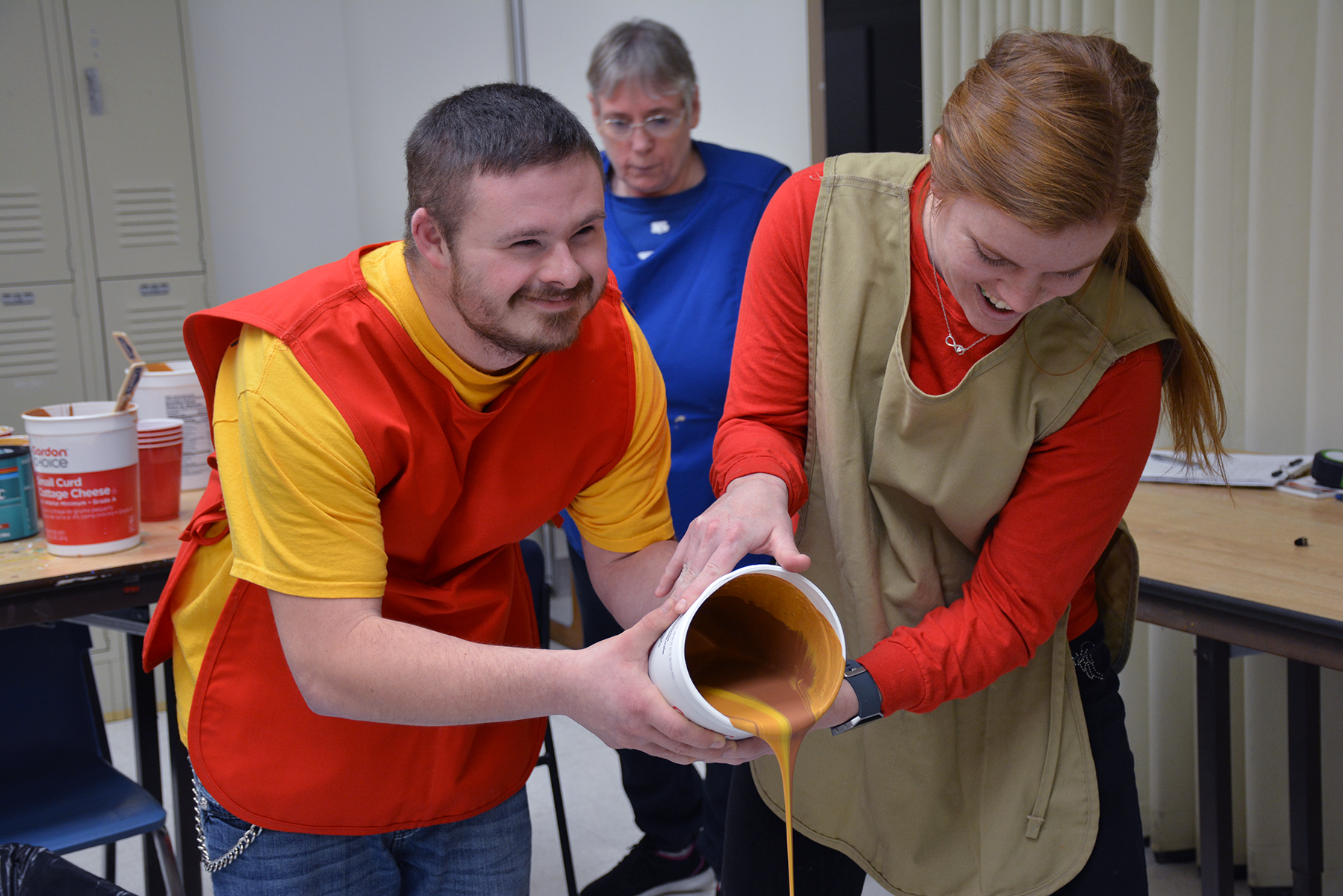 Celebrating Ability through Art
At Easterseals Crossroads, we incorporate art activities into our Adult Day program. Program participants really enjoy the process of working on individual and collective projects. There is often a great sense of teamwork that results in collaborative projects and our participants really enjoy the collective spirit.
Our staff enjoy experimenting with different mediums and different techniques to achieve varying results on projects. Often times, our program staff benefit from the expertise of interns and their skills sets.
Recently our Adult Day program staff and participants had the opportunity to work with Chloe Miers, an art education major at the University of Indianapolis, to create pieces of art to be used at our Celebrate Ability event. Staff and program participants (Tyler, Kathryn and Carolyn) had a wonderful experience and the project created some very special, unique pieces.
About Chloe
Painting is Chloe's favorite medium because of its messy and experimental nature — something she loves!
Chloe was thrilled to work on this project with our Adult Day services artists; she observed happiness and joy from the participants during the process. She has worked as a volunteer previously with adults with disabilities and finds that these personal experiences have helped her build friendships and understand others more completely.
Chloe hopes to use her skills, talents and education for her long-term goals of having her own art, yoga and nature-based retreat center for children and adults, which would focus on environmental projects, therapeutic practices and workshops.
About Tyler
Tyler enjoys yoga, dancing and being with his friends. He plays guitar and loves going to church. Tyler has a fun-loving personality and sense of humor; he is story-teller and he loves spending time with his dog J'Ace. Tyler loves art and he loved working with Chloe, Amanda and Carolyn to create art for Celebrate Ability.
About Carolyn
Carolyn always wants to "do her part" and she loves to color, draw and paint. She is a very organized person and she likes to clean her closet and get rid of old clothes (and habits). Carolyn is a good friend, a hard worker and she likes to be happy.
Carolyn says she likes to "tell it like it is," and she really enjoyed working with Chloe to make this show for Celebrate Ability.
About Kathryn
While at Easterseals Crossroads, Kathryn likes to hang out with friends, help others and make arts and crafts. She also volunteers sorting the mail and reading to others in the day program.
In the community, Kathryn enjoys going shopping, going to the library and doing crafts. She volunteers weekly at the local YMCA doing filing and at Robin Run Senior living center helping with laundry.
She said she had fun working on the paintings.