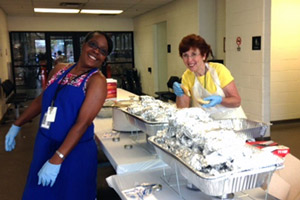 August at Industrial Services
August Picnic
August – what a great month to have a cook out and celebrate all that our employees have accomplished so far this year! As a result, we planned our CIS Summer Event 2016 for Thursday, August 4, 2016, where all our CIS employees attended lunch and had fun in the afternoon playing games together!
Hot dogs and hamburgers were grilled outside our facility by our COO, Curtiss Quirin, on our custom- made grill. The CIS Staff helped serve the sandwiches, baked beans, potato salad, cole slaw, fruit salad, and all the sandwich fixin's, along with fresh tomatoes from our very own CIS Urban Garden. Then we played some games together for prizes that were donated, and a great time was had by all!
Now we're back to the regular rhythm of serving our customers' needs after some great camaraderie, so if your business is in need of FDA registered solutions, contract manufacturing, order fulfillment solutions, product assembly, product packaging / repackaging, contract packaging, ETL testing, labeling / relabeling, or document scanning, Crossroads Industrial Services / Crossroads Document Services can provide those services with a great employment workforce at a fair cost in a reasonable amount of time.