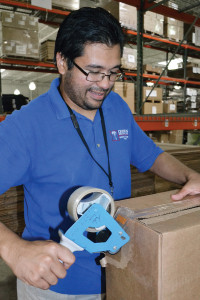 Crossroads Industrial Services offers a custom array of solutions all along the supply chain continuum. We save private companies, original equipment manufacturers (OEMs) and government entities valuable resources while impacting their bottom lines through our array of contract manufacturing, assembly and other supply chain services including packaging and fulfillment.
Equipment and Capabilities
At Crossroads, we offer custom and just-in-time contract services to meet all your packaging, fulfillment and shipping needs:
Using a combination of manual processes as well as automatic conveyers, binding machines, shrink wrappers, and other programmable equipment, we offer several types of packaging materials and styles (custom crates & boxes, poly-bags and slider cards, for example). Our maximum package handling capabilities are 48 inches by 84 inches, 16 inches in depth and 100 pounds. Additionally, our internal fleet of vehicles ensures timely packaging services; rush services are available.
Download our complete Capabilities Statement.