On Tuesday, September 8th, Crossroads Industrial Services hosted Brandon Herget, Senator Joe Donnelly's Indiana Regional Office Director for a plant tour of our east side manufacturing facility. This was the second opportunity Herget had to visit Crossroads Industrial Services within the last few years to witness the great things that happen at Crossroads Industrial Services every day.
Herget had the opportunity to check in on long-standing contract manufacturing jobs at Crossroads Industrial Services such as corrugated containers that are assembled for Harlan Labs and EPS recycling that is provided for several Indiana companies like Walmart, Roche Diagnostics and Stanley. He also was able to see new opportunities started since his last visit with companies like Gimme Charge, in which Crossroads manufactures a golf cart USB charging system and CareCycle, in which we recycle plastic filters used in hospital surgery rooms.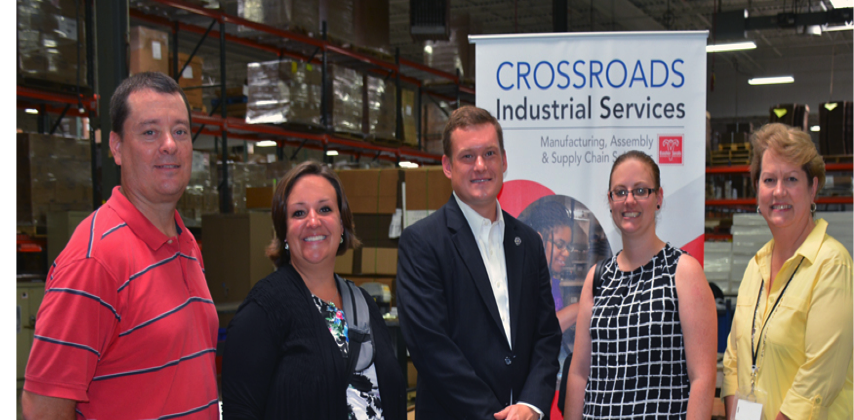 Pictured from left to right are:  Greg Roberts – Product Manager, Katy Stafford-Cunningham – VP Public Policy/INARF, Brandon Herget – Regional Director for Senator Joe Donnelly, Sarah Chestnut – Public Policy Coordinator/INARF, and Anne Traub – Human Resources Manager.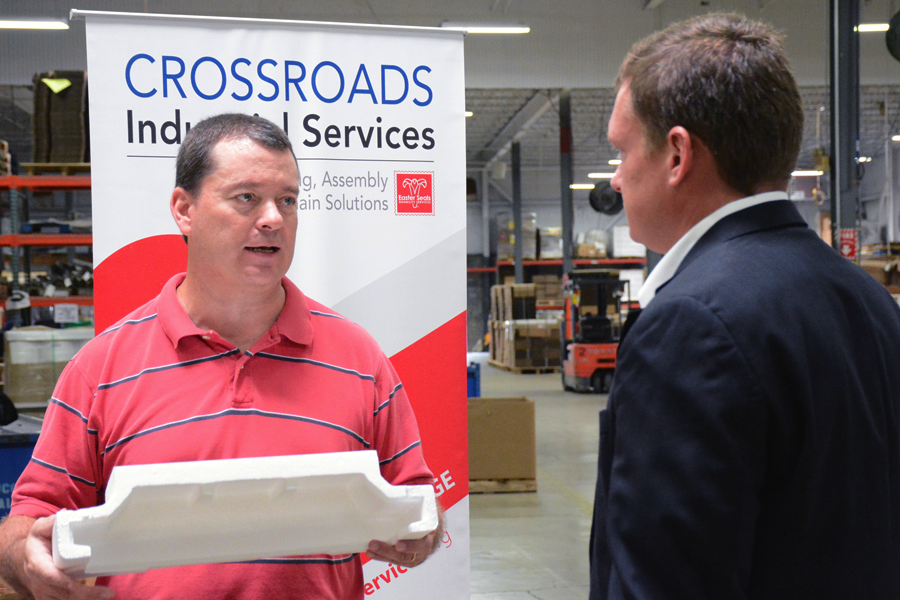 Greg Roberts – Product Manager and Brandon Herget – Regional Director for Senator Joe Donnelly
On a personal level, Herget was able to talk with several employees about their work at Crossroads Industrial Services and how employment opportunities had benefitted them. He discussed with several employees the critical role that IndyGo has played in their daily commute to and from work. Currently, more than 50% of Crossroads Industrial Services employees use either the fixed route bus service or the para-transit door-to-door service.
Senator Donnelly has been a great supporter of creating opportunities for individuals with special needs to thrive in the workplace. Senator Donnelly is included as one of our nation's Senators and Representatives that have earned the distinction of being named a Source America Champion. Source America is an organization that was created thru legislation in the early 1970's to help create workplace opportunities for individuals with special needs. Crossroads Industrial Services is a proud member of Source America, primarily through our work in manufacturing Combat Identification Panels for the US Army and USMC.