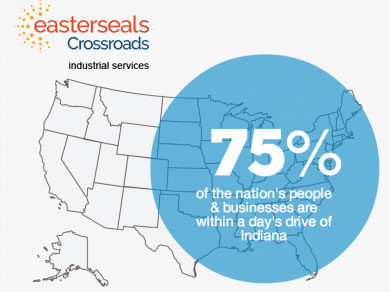 Forget what you think you know about Indiana. While the Hoosier state may be recognized for a love of basketball, the Indy 500, or the birthplace of folks like James Dean and Michael Jackson – Indiana's garnering national attention as a proven leader in manufacturing logistics and transportation. As an Indiana-based outsourced manufacturer, our Crossroads Industrial Services team is proud of the fact that Indiana is a national leader in pass-through interstates, home to the 2nd largest FedEx air hub worldwide, and 3rd in total freight railroads. With three maritime ports that together rank 7th in waterborne shipping, Indiana provides the only statewide port system with direct waterway access to two U.S. coasts.
The Crossroads Advantage
Crossroads Industrial Services leverages this infrastructure to provide the highest quality solutions that serve as a scalable extension of its customers' businesses. From contract manufacturing, assembly and other supply chain management services to just-in-time fulfillment and product packaging, Crossroads uniquely serves as a virtual factory so our customers can focus on their core competencies.
Indiana's business climate is poised to excel if the reshoring trend continues. Crossroads Industrial Services team is thrilled to play a role in helping bring manufacturing closer to home and boosting the economy through providing customers with cost-effective, efficient and high quality customized manufacturing solutions that help improve profitability. We work as a scalable extension of your business and provide the facility, services and qualified staff all in one place. Put your limited and valuable resources to better use and focus on product development, innovation and growing your business while we take care of the rest. Our efficient just-in-time and lean manufacturing processes reduce the cost and time required to get your quality product to market.
How Your Business Can Benefit
At Crossroads, our professionals take pride in providing companies with efficient, high quality manufacturing, assembly and supply chain management solutions. Between our training programs and the care we take in matching each individual with a project that brings out his or her strengths, we are able to meet strict industry standards, such as ISO 9001, FDA, UL and military compliance regulations, and impact the quality of life those affected by disability.
Please contact us to discuss your contract manufacturing needs.