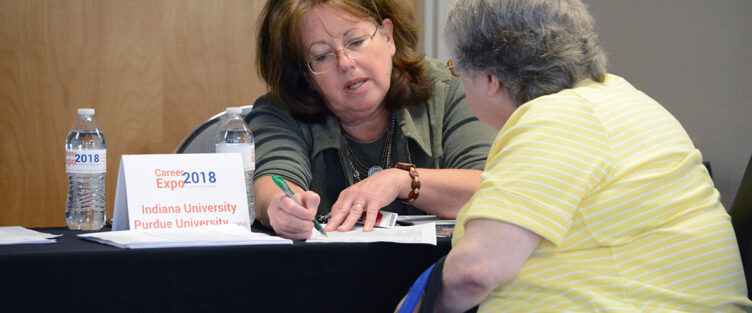 Career Expo 2019 is the place to meet representatives from businesses in our community and discuss potential job opportunities. You must be a job seeker with a disability to attend Career Expo and you must register to attend.
Easterseals Crossroads has partnered with the State of Indiana Vocational Rehabilitation Services, Help the World Foundation and Sycamore Services to bring employers and qualified candidates together for our sixth, one-day career event. Registration is still open for businesses in our community to attend.
When: Thursday, May 30, 2019 | 9 a.m. — 12 p.m.
Where: Easterseals Crossroads, 5th Floor Conference Rooms, 4740 Kingsway Drive, Indianapolis, IN
---
The following businesses will be attending Career Expo 2019:
Community Health Network
Crossroads Industrial Services
Eskenazi Health
Fastenal
FedEx
GetGo
Goodwill Commercial Services
Huntington Bank
Indiana University Health
Inktel Contact Center Solutions
Kroger
Marion County Prosecutor's Office
Marshalls
Old National Bank
University of Indianapolis / Quest Food Management
Woodforest National Bank
YMCA of Greater Indianapolis
Please contact us with any questions.